WHY CHINA MARKET
One of the Largest and Potential Sports & Fitness Market in the World
According the report from National Bureau of statistics, in China, nearly 400 million people take part in physical exercises regularly at the end of 2019. According to the '2019 China Fitness Industry Data Report' which released by the Santi Yun Data Center, China has become the country with the most number of fitness clubs in the world. By the end of 2019, there are 49,860 fitness clubs in mainland China, with 68.12 million fitness population, accounting for 4.9% of the whole population. The fitness population increased by 24.85 million over 2018, an increase of 57.43%.
Huge Business Space of the Fitness Industry in China
In 2019, the total number of fitness population in China's whole fitness industry is about 68.12 million, which is higher than that in the U.S.A in terms of the absolute number of members. However, under the total population base of 1.395 billion, the penetration rate of 4.9% fitness population in China is very low. In the U.S.A, this rate is 20.3%, which is 4.1 times higher than China's. The Europe's average rate is 10.1%, which is 2.1 times higher than China's.
If we want to catch up with the pace of the U.S.A and Europe, China will add at least 215 million and 72.78 million fitness population, as well as nearly 115,000 and 39,000 fitness clubs, and create 1.33 million and 450,000 coach jobs (excluding other employees). This is huge business space of the fitness industry in China.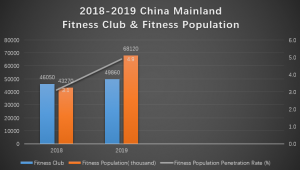 Data From : 2019 China Fitness Industry Data Report
Comparison of Fitness Industry Scale between China and U.S.A & Europe
| | | | | |
| --- | --- | --- | --- | --- |
| Region | Fitness Clubs | Fitness Population(million) | Whole Population(million) | Fitness Population Penetration(%) |
| Mainland China | 49,860 | 68.12 | 1.395 | 4.90 |
| Hong Kong, China | 980 | 0.51 | 7.42 | 6.80 |
| Taiwan, China | 330 | 0.78 | 23.69 | 3.30 |
| United States of America | 39,570 | 62.50 | 327 | 20.30 |
| Germany | 9,343 | 11.09 | 82.93 | 13.40 |
| Italy | 7,700 | 5.46 | 60.43 | 9.00 |
| United Kingdom | 7,038 | 9.90 | 66.49 | 14.90 |
| France | 4,370 | 5.96 | 66.99 | 8.90 |
Data From : 2019 China Fitness Industry Data Report, IHRSA 2019 Profiles of Success, European Health & Fitness Market Report 2019
Fast-growing of the Output Value of China's Fitness Industry
From 2012 to 2019, the output value of China's fitness industry grew rapidly, with an increase of 60.82% during 8 years