The last time Nancy Wang returned to China was in the spring of 2019. She was still a student at the University of Miami at the time. She graduated two years ago and is working in New York City.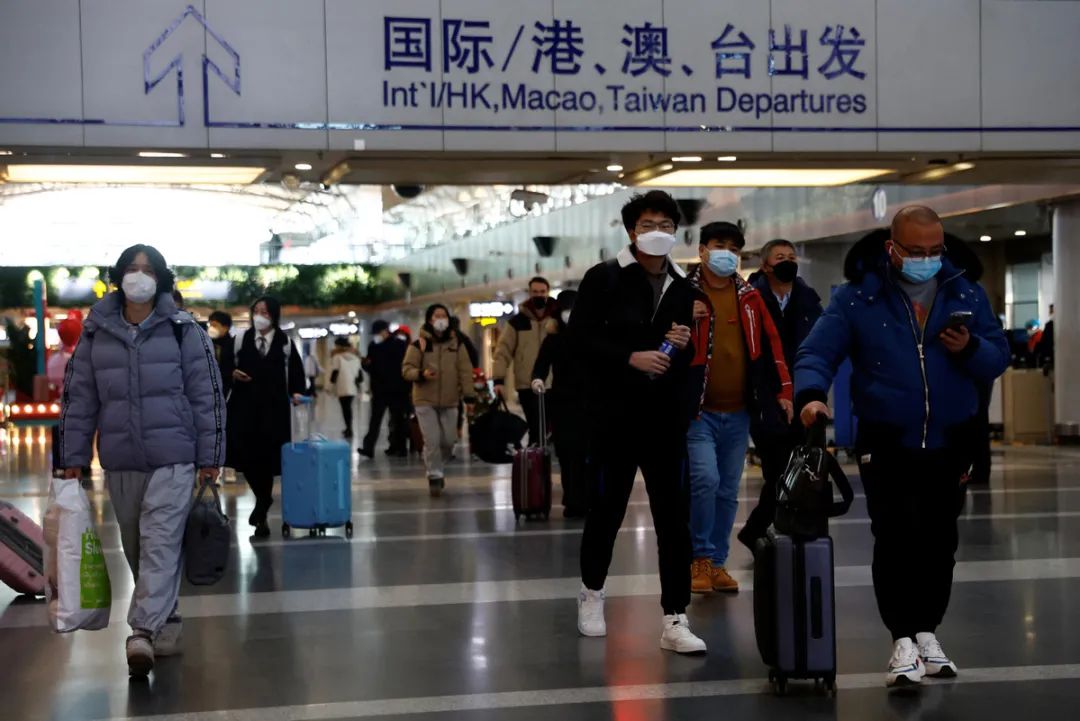 ▲ Travellers walk with their luggage at Beijing Capital International Airport in Beijing Dec 27, 2022. [Photo/Agencies]
"No more quarantine to go back to China!" said Wang, who hasn't been back to China for almost four years. When she heard the news, the first thing she did was search for a flight back to China.
 "Everyone is very happy," Wang told China Daily. "You had to devote a lot (of time) to return to China under quarantine. But now that the COVID-19 restrictions are lifted, everyone hopes to return to China at least once next year."
 Overseas Chinese cheered on Tuesday after China made a major shift of its epidemic response policies and removed most COVID restrictions on international arrivals, starting Jan 8.
 "After hearing the news, my husband and friends were very happy: Wow, we can go back. They feel very good that they can go back to China to meet their parents," Yiling Zheng, a New York City resident, told China Daily.
 She just had a baby this year and had planned to go back to China at the end of the year. But with the easing of China's rules on travel in and out of the country, Zheng's mother was able to come to take care of her and her baby a few days ago.
 Chinese business communities in the US are also "eager to go back", said Lin Guang, the president of the US Zhejiang General Chamber of Commerce.
 "For many of us, our Chinese phone numbers, WeChat payments, et cetera, all became invalid or needed to be verified in the past three years. Many domestic business transactions also require Chinese bank accounts and so on. All of these require us to go back to China to handle them," Lin told China Daily. "Overall, this is good news. If possible, we'll be back in no time."
 Some importers in the US used to go to Chinese factories and make orders there, said Lin. Those people will soon go back to China, he said.
 China's decision also has offered luxury brands, and global investors hope that it could support the global economy and unblock supply chains amid a dark outlook for 2023.
 Shares in global luxury goods groups, which rely heavily on Chinese shoppers, rose on Tuesday on the easing of travel restrictions.
 Luxury goods giant LVMH Moët Hennessy Louis Vuitton advanced as much as 2.5 percent in Paris, while Kering, owner of the Gucci and Saint Laurent brands, rose as much as 2.2 percent. Birkin-bag maker Hermès International advanced more than 2 percent. In Milan, shares in Moncler, Tod's and Salvatore Ferragamo also rose.
 According to consulting firm Bain and Co, Chinese consumers accounted for one-third of global spending on luxury goods in 2018.
 A Morgan Stanley analysis released in August said that both US and European investors are poised to gain from China's transition.
 In the US, the investment bank believes that sectors including branded apparel and footwear, technology, transportation and retail food will benefit as Chinese consumers ramp up discretionary spending. Looser travel restrictions bode well for the European luxury goods makers, including apparel, footwear and consumables.
 Analysts also said that the easing of restrictions on international arrivals could boost China's economy and global commerce at a time when many nations have raised interest rates to tame inflation.
 "China is front and center for markets right now," Hani Redha, a portfolio manager at PineBridge Investments, told The Wall Street Journal. "Without this, it was pretty clear to us we'd get a pretty broad global recession."
 "The easing in recession expectations were likely driven by an improved outlook on China's growth," according to a survey from Bank of America.
 Analysts at Goldman Sachs believe that the overall impact of the policy shift in China will be positive for its economy.
 The steps to free up the movement of people in China domestically and for inward travel support the investment bank's expectations for GDP growth above 5 percent in 2023.
FROM:CHINADAILY